Andy Gross is one of the hottest stand up comic, magician and ventriloquist working today as evidenced by his sold out shows and devoted following! He performs over 150 shows a year at comedy clubs, Las Vegas, cruise ships, fortune 500 corporate events, colleges and performing arts theaters everywhere. He is considered the best by his peers in the entertainment industry and he will leave you spellbound. You may recognize him from his numerous TV appearances, including most recently an NBC television special featuring his talents.
Andy is multi-talented and the only entertainer that currently combines stand up comedy, magic and ventriloquism successfully together making him one of the most sought after corporate entertainers in the world. Audiences are absolutely unanimous in their praise of this amazing performer. His ad-libs during his stand-up are compared frequently to Don Rickles and Robin Williams. His voice throwing is the best in the business and only a few people in the world can throw their voice, it is must hear to believe!
His achievements go beyond entertainment because by the age of 15 Andy Gross became the youngest professional racquetball player in the history of the sport, when racquetball was at its peak in popularity. He won more professional tournaments in Southern California than any player in the history of the sport. Together with his brother David, who was also a pro, have won over 60 first place doubles tournaments. He remained on the pro tour until he retired at age 26 to devote full time to entertainment.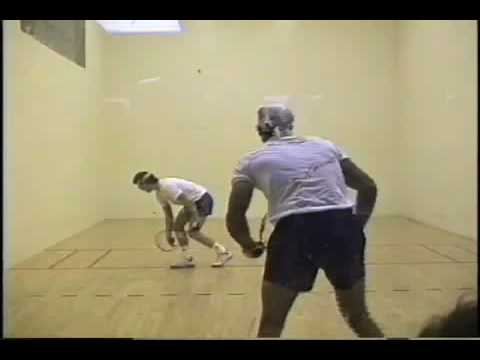 Andy Gross serves up a 170 mph ace to win the match
Click below for a few fun old sports photos, magazine articles and more >
Andy currently resides in Los Angeles with his wife April and 4 children. His love of performing and entertainment has passed to the next generation as his children are also in the entertainment business.
Click Photos To Enlarge:
Andy Gross with wife April and daughter Morgan Lily.
His son Jordan David works steadily in television and film, most recently guest starring in Criminal Minds and the Mentalist.
His 13 year old daughter Morgan Lily already has a resume of a veteran actress. She has starred in 6 major motion pictures as well as numerous TV guest starring spots and many TV commercials. Most recently starring along side John Cusack in the blockbuster film "2012". Look for Morgan in the new X-Men playing young Mystique!
click here for > IMDB
His 8 year old Riley Jane is following right along and is currently having fun modeling and can be seen in many national magazines already.
His youngest, another beautiful girl 4 year old Audrey Lynn